Hey everyone, hope you are all good?!?! Who is ready for another product review? I think it is about time we have another one. But like I said in my monthly favourites post each of the products that are mentioned are going to have their own specific post with a more in-depth product review. Let's get to it!!
As the title gives away I have chosen a Neutrogena product to review for you all today. The specific product is the Neutrogena Pink Grapefruit Facial Wash which I have purchased because my skin is being a nightmare currently and I am trying anything in my power to bring it back to life once again.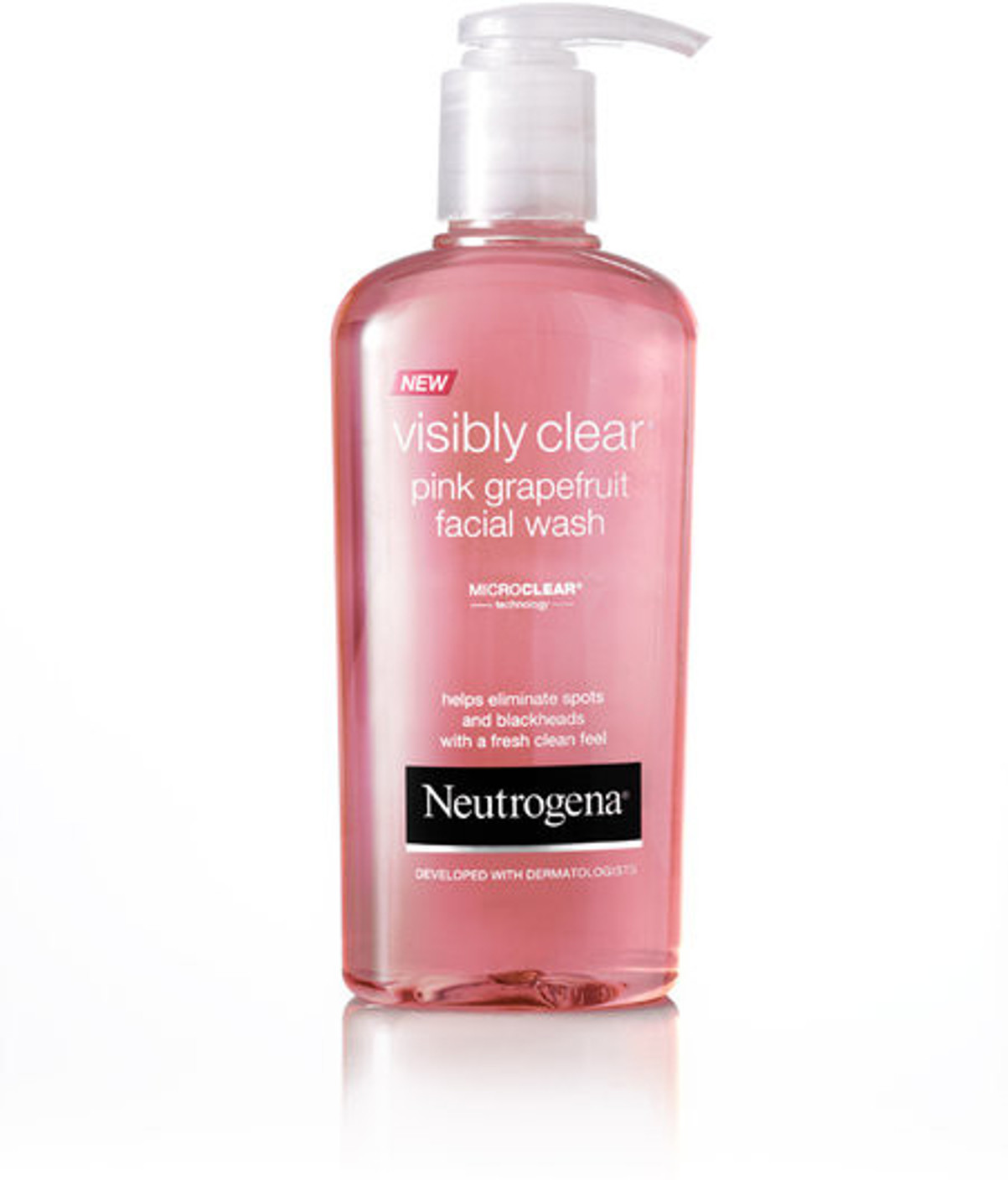 The packaging of this product is so simple, but so effective. Companies that use clear packaging are the ones that have nothing to hide. Being able to see the actual product that is inside, for me is beneficial because you can see what you are actually letting yourself in for. Plus the benefit of buying a product that has clear packaging, will mean that you are making sure that you are buying a product that is completely full, we have all been there. The shape of the packaging is perfect, the size is easy to grab especially when you have damp hands, sometimes bottles are too wide or too fat for you to get a good hold of. The best part of the packaging for me is the pump application to get the product out of the container. Pumps make all of our lives so much easier, especially when our hands are damp and we need to get the product out of the bottle. A tiny amount of pressure on the pump releases enough product to make your life easier. Products with a pump automatically win in my eyes.
The formula of the product is incredible. The formula is not too sticky like some facial washes, the product does not feel heavy on the skin at all. The formula is made so that it is light and airy and so easy to apply. The smoothness of the product when applying to the skin is remarkable, it glides on to the skin and massages in to the nooks and crevices of the skin perfectly. It foams up to the perfect consistency, some face washes can foam up too quickly and leave you feeling like you have a whole bubble bath on your face, but with this product there is no problem with the foaming whatsoever. The formula is not harsh on the skin at all, some facial washes can leave you with a tingling sensation on the skin and that is not what you get with this product whatsoever, the product soothes and calms the skin and makes it feel like new once again. Once the product has foamed up to wash off could not be any easier, it takes virtually no effort at all. A small amount of warm water, removes the bubbles and excess product. How much easier could you possibly want it to be?
Thankfully with the scent of this product it does actually smell like pink grapefruit, some products as you will know will claim to smell like a certain fruit but actually smell nothing like it at all. Fruit based products are divine, to me they are just screaming that they are containing at least one natural chemical within the bottle. For me pink grapefruit is a fruit scent in a bath product that you do not normally find, so for me being in a face wash will leave my face smelling incredible, which it really does. I love to use this face wash especially after I have removed my makeup using a face wipe, that way I know for sure that I am removing all surface makeup. I find if I use a face wash that contains an exfoliator part will be too harsh on my skin, so I will tend to use an exfoliator on the skin separately a couple of times a week. But we all know that a natural face wash should be used practically daily to ensure that we are removing dirt and debris which can lay on the skin and be slightly annoying to remove.
So before and after, what were my thoughts. The first time I used it my skin was beyond awful, full of dry patches and the skin was incredibly tough and hard to remove. After the first application I could feel relief to my skin, it was a miracle. Once the product was removed my skin look almost instantaneously brighter and much better than what it previously looked like. It did not clear my skin problem completely but improved it greatly. The bad areas were brightened and the redness disappeared, the skin felt less tight that it had been and the dry skin patches were starting to feel softer.
The downside of the product is that when you have pumped some product out on to your hand if you have too much product you end up wasting it because you cannot put the remainder back in to the container. But other than that the product has no downsides for me at all.
Overall I cannot thank this product enough for what it has done for me. I thought I was going to be stuck with terrible skin but it has saved my bacon and made me feel like a girl again. For a daily face wash I would seriously recommend it to anyone that needs one.
That is it for this product review, let me know if you have tried this product or want to try the product out. If you liked this post give it a like, to stay in the loop with all of my posts subscribe by either clicking the button or simply enter your button in to the subscribe box, that way you never miss when I post. Give me a follow on all of my social media pages and I will make sure to follow you all back. Speaking of social media if you share my blog posts on your social media page with your friends and family it really helps me out, which I am very grateful for.
Loz xx